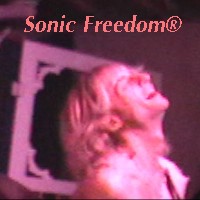 Multi-instrumentalist singer-songwriter
gifted music teacher
"A
Rock Star"
...Rock on Tim!"
- Buddy, MakeAStar.com
"You Lifted Me Up Right Out of the Trenches of Despair"
"I was looking for inspirational music
with a kick @ss sound-man,
you rock!
You've got it all. I was at a low point in my life and you lifted me up right out of the trenches of despair."
- Kyle W.
Billy Sheehan says?
"I enjoyed your playing very much...
I'm sure your talents will take you far."
- Billy Sheehan
( Mr. Big , David Lee Roth, Niacin , Steve Vai , Talas, and many more sonic adventures! )
Your
Sonic Freedom®™ community now consists of people from 40 News Welcome Spain: 41 countries: USA, Canada, UK, Australia, Russia, Norway, Germany, Lithuania, Croatia/Hrvatska, Brazil, Israel, France, the island of Montserrat in West Indies, Bermuda, South Africa, Denmark, Mexico, Singapore, Portugal, Taiwan, Yugoslavia, Malaysia, Hungary, Netherlands, Italy, Finland, New Zealand, Argentina, Romania, Kuwait,
Turkey, Costa Rica, Egypt, Poland, Austria, Sweden, Philippines, Indonesia, Slovakia & Cameroon.
You should get on the Sonic Freedom®™ bandwagon too!
"Thanks again for
reinventing
the vibe..."
"Rich, flowing, creative and energetic,
this track cuts through several
musical genre barriers and comes out the
other side in its own bag...

...should have no problem garnering the attention
it deserves for long enough to sustain several offers to record for, publish, license, and release many of your works into the world markets. Sale (Sail) on!...
You should be well on your way to success soon. Keep on crankin' out the hits!"
- Zip, MakeAStar.com
"You have a unique sound...
there is a lot of invention... the vocals adds a further musical dimension...
you have real spirit in your voice...
the overall effect is solid."
- Curtis Lowell, MakeAStar.com
You Are Seconds Away From Feeling Musically Uplifted, Inspired, or Sonatized* Guaranteed! Enjoy Rare
Free Music This Moment Mp3 Downloads

"Some of the BEST MUSIC I Have heard in a LONG Time,
and this Music is so re-freshing and it Rocks BADD @SS..."
- Fred Evans, McHenry, IL

Qualify today to be among Sonic Freedom®™/s.s.m. Private News Community! ~~ priceless value, no cost now. Quickly enter email below before midnight !You will be happy you did!

For private non spam use only ~ Tim Mainka




Relax...Enjoy...Just Press Play Until Finished
~ 11 selected samples for online streaming - Use Flash buttons below, enjoy!
Note: Most Browsers Are Not Compatible With Adobe Flash® Streaming Buttons
:( Solution is: Opera, Dolphin, Kiwi, FlashFox, and Puffin Web browsers still support Flash.
Plus explore the rest of "Sonic Freedom Land" for more surprises. Enjoy Sonic Freedom Ninjas™ | Mystery Mind Maze™
Girls!
© (P) Tim Mainka - Sonic Freedom®™ -- Notice: All Rights Reserved. ;)

Live lo-fi mono recording here right now!
~ unashamed raw real human stuff here!! ~ ™

Guitar and Vocs: Tim Mainka
Bass: Gary Farris
Drums: Michael "27 Club" Fegel
(RIP...Dear Rock Star Friend)

"60's falvoured Power Pop...
a odd mix of prog rock, seventies rock, fusion shredder/metal &
jam band"

- Soutnernx, MakeAStar.com

(more avant garde)
»» SizzleFizzle Hot pre-release Mp3
Baby I Don't Care


» SizzleFizzle Top 3 Finalist pre-release Mp3
For the Hell of It





»» Recommended.
MakeAStar TOP 16 single.
Just Give Me Some Time



»» Recommended.
MakeAStar TOP 16 single.
It's All About Love



»» Recommended.
MakeAStar TOP 16 single.
Do You Miss Me



»» Recommended.
MakeAStar TOP 16 single.
Ecstasy (Together Let's Love)






Destiny Saved
- (Ty Tabor like guitar solo?)



Fly Your Spirit High
- (fast shredding guitar solo?)






The Light - featuring special guest artist,
Laura Hollingsworth






You may buy Sonic Freedom mp3s at iTunes or

Enjoy the full CD mp3 experience right now!
(with 5 wonderful bonuses) click here to see mp3 bonuses
» Super Freaky Rare 31 minute Broadband Streaming Experience

Alert! Stop. Focus and enjoy until the song is finished...
or else play the Sonic Freedom Ninjas
*That Many pEOPLE* twice!! =)

» Download Sonic Freedom® Ninjas -

Sonic Freedom® Ninjas

Tim Mainka, Guitar / Bass / Vocals
Gary Farris, Guitar / Bass / Vocals
Michael Fegel, Drums
What if YOU LOVE Tim Mainka!

All music, instruments, vocals, lyrics, written, performed and
produced by Tim Mainka.
"You Have Created Your Own Style
Of Delivering..."MakeAStar.com
Do you like making comparisons?
Dave Matthews, Lenny Kravitz, Yes, Rush, Jethro Tull, Clay Aiken,
Bryan Adams, Slaughter, King's X, Ty Tabor, Dokken, Mr. Big, Mötley Crüe,
Guns 'N Roses, Extreme, Ratt, Ted Nugent, Michelle Branch, Led Zeppelin, Pink Floyd, Beatles, Paul McCartney, John Lennon, the Doors, the Who, the Guess Who, Linda Perry (Four Non Blondes), Aerosmith, Raspberries, Blue Murder, Blue Oyster Cult, ZZ Top, Chicago, Rolling Stones, Van Halen, David Lee Roth, Bruce Springsteen, Barry Manilow, Billy Joel, Reo Speedwagon, Bob Seager, Dream Theater, Bach, Yanni, Crosby Stills and Nash, the Ataris, Fates Warning, AC/DC, TNT, Metallica, Boston, Foreigner, Eagles, Red Hot Chilli Peppers, James Brown, Ben Folds Five, Alex Lifeson and you name it...
Tim may have been compared to or influenced by some of these bands BUT
Does Tim Mainka's Sonic Freedom™
Really Sound Like These Bands Or Artists?
You can decide for yourself.
"I can already see you on Jay Leno's show!"
"I have every bit of confidence that you're gonna "make it" some day--God's timing, not ours. You've got the whole package....guitar talent, voice, great songs, personality, charisma, and seem to be very highly motivated and driven. Hard-to-beat package my friend; I can already see you on Jay Leno's show!" - Dan Martin
"I cant wait to hear the rest of your music."
"With your music talent you will go very far. I know you will get there...very excited for you. I cant wait to hear the rest of your music. It sounds great! I know your dream will come true, I can see and feel it already, you touching a lot of peoples hearts." - Kallie K, South Africa
"The power of your music, I find so memorable."
"I am deeply moved when I hear your music-- the immense passion, the lyrical beauty and
the power of your music, I find so memorable. You have the divine spark, the indescribable quality we sometimes call 'star quality.' I can foresee a day when the treasure that is your music is no longer a secret. As Eleanor Roosevelt once said, 'The future belongs to those
who believe in the beauty of their dreams.' " - Patricia Elaine Perry
Click here to see why NOW is the best time to buy the CD!
Sorry SOLD OUT.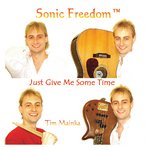 Cover Art from Tim Mainka's
debut Sonic Freedom™ CD mastered by
Ty Tabor of King's X
Buy it now!
(click to order CD)
Sorry SOLD OUT.